Ad blocker interference detected!
Wikia is a free-to-use site that makes money from advertising. We have a modified experience for viewers using ad blockers

Wikia is not accessible if you've made further modifications. Remove the custom ad blocker rule(s) and the page will load as expected.
Xavier Samuel
Biographical information
Born

December 10, 1983 (1983-12-10) (age 32); Hamilton, Victoria, Australia

Nationality

Australian

Gender

Male

Eye color

Brown

Hair color

Brown

Career
Years active

2003 - present

In Twilight saga
Notable roles

Fergus in Newcastle
Ed Anderson in September

.
Xavier Samuel (born December 10, 1983) appears in Eclipse as Riley Biers.
Biography
Edit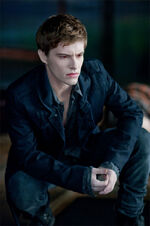 Xavier was born in Victoria and grew up in Adelaide, South Australia. He graduated from Rostrevor College in 2001. Despite completing his studies at Rostrevor College, he undertook final year drama at Christian Brothers College, where his father taught English, due to a timetable clash. This notwithstanding, he played the part of Tom Snout in Rostrevor College's production of William Shakespeare's A Midsummer Night's Dream as well as playing the part of Belvile in CBC's production of Aphra Behn's The Rover (The Banished Cavaliers). He attended Flinders University Drama Centre in 2005 where he played Hamlet in the graduate production. During his time at university he was the lead singer of Adelaide band, Hyatus (formerly Degrees of Freedom).[1] Samuel was recruited into the band by its bass player, Kelstar, who performed with him in the Banished Cavaliers.[2] Samuel ultimately left Hyatus to pursue his film career.[3] Samuel has also made theatre appearances in Osama the Hero, for which his performance was well-received by the Sydney Morning Herald. He has appeared in leading roles in the feature films September and Newcastle, and confirmed in July 2009 that he had been cast to play Riley Biers in Eclipse, the third movie in the Twilight film franchise.
Filmography
Edit
Year
Film
Role
2006
2 Weeks with the Queen
Colin
Osama the Hero
2007
Mercury Fur
Year
Film
Role
2003
McLeod's Daughters
Jason
2006
2:37
Theo
Angela's Decision
Will Turner
2007
September
Ed Anderson
2008
Newcastle
Fergus
Dream Life
Boyd
2009
The Loved Ones
Brent
Road Train
Marcus
2010
The Twilight Saga: Eclipse
Riley Biers
2011
Bait
Josh
Anonymous
Southampton
A Few Best Men
David
2013
Adore
Ian
Plush
Enzo
2014
Healing
Paul
Fury
2015
Frankenstein
2016
Love & Friendship
Reginald DeCourcy
Mr. Church
Owen
The Death and Life of Otto Bloom
Otto Bloom
References
Edit
External links
Edit