This is an archive of past discussions. Do not edit the contents of this page. If you wish to start a new discussion, please do so on my current talk page.
Language
Okay, me and Bells promised NO FIGHTING! Pleas MS you gotta understand!
Carlos Los Davis 01:59, March 28, 2012 (UTC)
Re: Comment editor - black on black.
What did they say about contacting the admins? Any advice on what we're supposed to do? I went searching for an answer and only found people complaining that nothing could be done to fix it, with the exception of that wikia.css code you noticed (yes, it only works individually). -TagAlongPam (talk) 02:14, March 28, 2012 (UTC)
No more outings for me....
I was offline for longer than I usually am, and a bunch of things happened and I can't keep up with them. I don't know how to really tackle the Bells/Carlos/Flawlessnat/Jasper chat feud, though. TeamTaycob 14:29, March 28, 2012 (UTC)
Signature
hey,it worked! i actully have a good signature,thanks so much.......lots of hugs and kisses
teamtwigirl 14:36, March 28, 2012 (UTC)
Meanness
the user "carlos" or whatever,is really getting me going! Shes being really ''mean to bellscullen........................what is this wiki turning into to?
teamtwigirl 13:54, March 29, 2012 (UTC)
thanks MS..............
teamtwigirl 14:44, March 29, 2012 (UTC)
Comment on Mary (Hilda's coven)
I...I just don't get it. People seem to hate me here, but that was so unnecessaery and random.
And the dressup was great. I would be fangirling over my ability to walk around in four-inch heels without falling on my ass even once, but you don't seem like the fangirling type... TeamTaycob 13:19, March 30, 2012 (UTC)
You're the nicest, MS. :) TeamTaycob 13:42, March 30, 2012 (UTC)
RE: BD2
I am but i am just making these pages so they will be there when we need them. It is going to be a fuss later if we don't keep them.
Um, it will be a fuss later, why can't you see I am only doing the best for this wiki
But I am only creating these pages because the job is easier in the future. If you choose to be on my side, you can actually say "hey, why not keep them. They will be used in future for more use." But if you keep on putting it for deletion I will create them again.
Look Minor, I am over it, put them for deletion. I seriously DO NOT CARE ANYMORE. Like every single thing I do on here is being jugded. So why can't you just hear me out. please.
Look Minor, I know that. But I am contributing to the wiki. Blogs are nothing. They are not talk pages. Please can you send the message out that I will be making those pages. I really want to make them my own work of art so that I can contribute to this wiki. All I am thinking I am not being counted as a user. I am being counted as nothing on here. So please I really want these pages to stay. I know I have made one page and it is called Breaking Dawn: Part 2 movie quotes that is only the page that seems to be staying. I am sorry for yelling.
Thanks but I am sorry about yelling before. It was not called for and not on. Please forgive.
I know but I yelled at you. I am sorry :D
Hey I am asking community central to shut it down. So it will solve arguments and I am sorry that it has caused so much shit.
hi!
hey! I made a blog about my fanfic!
i need some characters for my fanfic
if u want to u can put down a character.
all i need is the name, species, apperience, personality, mate and power (if there a vampire)
plz go on chat
bye
hello55522 12:30, March 31, 2012 (UTC)
Mr. Onion...
You won't get rid of me that easily, Mr. MinorStoop. :P
Nike's Girl 14:52, March 31, 2012 (UTC)
LOL, yeah, I did forget to comment on your new, amazing, blue bird-avatar. :)
Nike's Girl 14:58, March 31, 2012 (UTC)
RE: EIB's blog
Fine with me. TeamTaycob 14:19, April 1, 2012 (UTC)
In the middle of un-bereaucrating myself, I wasn't given permission to do that since I was no longer an admin. Maybe EIB dealt with it quicker than I could. TeamTaycob 14:10, April 3, 2012 (UTC)
Yeah, I was thinking the same thing. I've recently tried to start a Wiki, dedicated to my favorite author and her novels...it didn't work out. :/ TeamTaycob 14:26, April 3, 2012 (UTC)
Laurie Halse Anderson, a young adult author. She wrote Speak, Catalyst, Wintergirls, Fever 1793, etc. Her books are sad but they are so good. Seriously, she is the first author I recommend when people ask for book recommendations. I'm sort of her fangirl. :-P TeamTaycob 14:37, April 3, 2012 (UTC)
Good choice. TeamTaycob 14:50, April 3, 2012 (UTC)
RE: What the hell was this supposed to be?
I see it now with avatar. First glimpse I thought CharmedJay had made a team for himself, lol. LuckyTimothy 23:36, April 2, 2012 (UTC)
RE: H vs. T
Nope. I never got a prompt for it on the wiki, but imagine a notification is in my e-mail account. Seems I'm just an admin but whatever the case, while I appreciate being made an admin... I will not be editing there. LuckyTimothy 16:59, April 3, 2012 (UTC)
Re: Flowerlove
Have you tried asking? -TagAlongPam (talk) 02:26, April 4, 2012 (UTC)
MS, the onion
' "Be glad there is only _one_ MinorStoop - two would be two too many! :-P" - MinorStoop '
One of the smartest things you've ever said. :)
Nike's Girl 08:50, April 4, 2012 (UTC)
LOL, I don't know if it was a compliment, so you shouldn't thank me at all. :)
Nike's Girl 10:57, April 4, 2012 (UTC)

Te-he, Nike's Girl - MinorStoop 1-0
Nike's Girl 10:58, April 4, 2012 (UTC)

Jk, you know that I love teasing you. :)
Nike's Girl 11:00, April 4, 2012 (UTC)

Hey, if that insulted you that much, then, I'm sorry... Friends?
Nike's Girl 11:05, April 4, 2012 (UTC)

.*Jacob hugs you*
Nike's Girl 11:19, April 4, 2012 (UTC)
RE: Formatting
I see. TeamTaycob 18:26, April 4, 2012 (UTC)
Tsk, tsk. TeamTaycob 18:57, April 4, 2012 (UTC)
thank you,MS!
thank you for the happy birthday! it was a fun day!! look,this is the way my signature came out!
[[user talk:imataycobsobettergetusedtoit|<font face="Vivaldi"><font size="5"><span style="colour:#bb4499">Miss.taycob</span><font></font>]] 11:51, April 5, 2012 (UTC)
Top Ten List
Hey, Onion, in this http://twilightsaga.wikia.com/wiki/Hottest_cast_members page there are some pictures. Do you think they should be there? 'Cause I remember LuckyTimothy saying that pages like this shouldn't have images.
PS: Can you "shorten" my talk page like yours and TeamTaycob's without deleting the messages?? (that "archive" thing)
Thank you!
Nike's Girl 13:03, April 5, 2012 (UTC)
THANK YOU!
Question: Can I have the "welcome to my talk page" section at the top of the page? o.O
Nike's Girl 13:38, April 5, 2012 (UTC)
Re: Tracking senses.
They could probably be merged into one page with separate sections. -TagAlongPam (talk) 20:36, April 5, 2012 (UTC)
Mr. Molina
Thanks for answering. :)
Oh, and sometimes, (you may not believe this) you are just so freakin' adorable! <G>
Nike's Girl 11:28, April 6, 2012 (UTC)
L.O.L. Only you could think and write this. :)
Nike's Girl 12:25, April 6, 2012 (UTC)
hey!
hi wanna go on chat?
message me
bye
Hello55522 12:29, April 6, 2012 (UTC)
Mr.Molina #2
This just reminds me of somethinig but I have a diffuculty remembering what it is... Can you help, Mr.Molina?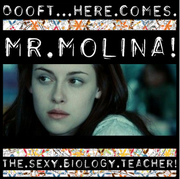 LOL much?
Nike's Girl 13:20, April 6, 2012 (UTC)
T. Lautner gallery
It's open. Go nuts. TeamTaycob 13:46, April 6, 2012 (UTC)
A Team For Mr.Molina('s onion)
Every member of the Volturi and the Denali Coven has his/her own Team template. It's hight time Mr.Molina had his own, don't you think? It's up to you though... ;)
Nike's Girl 20:02, April 6, 2012 (UTC)
I don't know how to make templates.Especially Team templates. I'll ask DL then. Thanks for answering. :)
Nike's Girl 20:48, April 6, 2012 (UTC)

Thanks :)
Nike's Girl 20:51, April 6, 2012 (UTC)

Thanks!(although I don't know how this could help me... o.O) Oh, you are so helpful. <G> This is what I meant by "freaking adorable" and you answered me with that Swedish food... --_--
Anyways, now how the "thing" that you sent me could help?
Nike's Girl 21:28, April 6, 2012 (UTC)

Oh, goodnight then! And don't worry! LuckyTimothy will help, I'm sure! Have a nice time and Happy Easter! (If I don't talk to you again by then..) :)
Nike's Girl 21:34, April 6, 2012 (UTC)

I'm such an Edward, I didn't even say "thanks". Thanks! :)
Nike's Girl 21:36, April 6, 2012 (UTC)
Well,
In my "My signature" box in "My preferances" I don't put the code of my signature. I talked about this with LT and he gave me a code to put in that box. This code is "linked" to the page he created for my signature. So, the code I have in my Signature Box is stable. The only thing I can change is the code in the page of my sign. (I've learned how to change the colour, but not the font yet, since it has or something like this..)
Nike's Girl 09:51, April 8, 2012 (UTC)
Aww, it's okay. :) *Jacob hug* It's not that important.
Nike's Girl 10:00, April 8, 2012 (UTC)
Just a second, I want to test something :
Nike's Girl 10:08, April 8, 2012 (UTC)
Tracking
Done. TeamTaycob 13:27, April 9, 2012 (UTC)
No problem, Onion. TeamTaycob 13:53, April 9, 2012 (UTC)
We're all special in our own little ways, Tim. TeamTaycob 02:39, April 10, 2012 (UTC)
Mr.MinorStoop,...
I decided to forgive you. :) But, please don't call me something like this again, okay?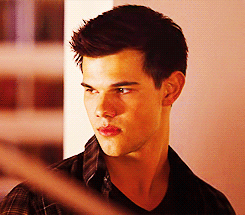 Because after you called me...what you called me, you said I was funny too, SO....
You should check one word's meaning before using it, 'kay?
Anyway I forgive you. You did the best, you apologised. :)
Are you tired of drama?Good. 'Kay I'll stop now. It's Easter, we shouldn't argue. :)
Happy Easter!!! :)
Nike's Girl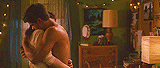 11:36, April 11, 2012 (UTC)
Candidates for deletion
All of those pages you marked for deletion used to have content. What happened? TeamTaycob 13:50, April 11, 2012 (UTC)
Oh, okay. Thanks. TeamTaycob 13:52, April 11, 2012 (UTC)
RE: Movie reviews pages.
I say we keep them - except for the BD-2 one. That one's far too premature. Seven months isn't that long of a wait. Anyway, I think they should all stay because we've already made them, and they were made a while ago, at that. We've got a pretty opinionated crowd already, and they tend to share their love or hate for the movies, anyway, but they're not doing anything bad, I think. TeamTaycob 14:01, April 14, 2012 (UTC)
Sorry, I just realized I never answered you about this. The Eclipse and Breaking Dawn pages aren't really empty, people just left their reviews in the comment sections. They have a different format than the Twilight and New Moon pages, but they've still been used. -TagAlongPam (talk) 20:56, April 14, 2012 (UTC)
No problem. -TagAlongPam (talk) 23:00, April 14, 2012 (UTC)
Revisions
May I know the reasoning behind your undoing of my revisions? Just wondering what sort of things are deemed 'acceptable' around here. Karen (talk) * (profile) 08:08, April 15, 2012 (UTC)
Page Name Changes
I'm sorry I reverted all of the changes that you did in the last hour. You changed the page names to easier to understand versions, and I understand this. I did check online and the official name for these abilities is Telepathy and Tactile Telepathy. That is the only reason I changed them and I needed to explain this to you. -TheLunarEclipse
Okay :D! I hate that wiki policy about page names and capitalizations because in English, you capitalize all the first letters of the important words of a title. Anyway, I'm agnostic too, but I think it's easy to tell he was going for "Hate Christ", and I don't like people making fun of others' religions. Thanks for changing the categories to get Astral Projection out of Special abilities, and I'm sure someone is going to kick me in the butt for changing it, but oh well :P. And yes, "aura of Happiness" is the stupidest name on earth xD! -TheLunarEclipse
For the record, it's not a quirk of mine but standard Wikipedia policy (though I am probably the one who started enforcing that policy here). -TagAlongPam (talk) 11:28, April 16, 2012 (UTC)

Lol, I thought it had something to do with you, Pam :P! Well, I suppose I should stick to guidelines :P.
Re: Broken redirects
You now have admin rights. Go to town! -TagAlongPam (talk) 11:28, April 16, 2012 (UTC)
RE: User Paleclaw
Yes, They were spamming and talking about nonsense after I repeatedly told them not too. They where here this morning too.
(Fred + Vandalism EQUALS TO NOT GOOD)
Look, I now we haven't gotten off on the right foot. I thought I was helping. I am sorry.
Edward_Is_Better_23
Question
how dare you try and delete my page
Kirstynlovesedward4eva 19:54, April 19, 2012 (UTC)k.berridge
RE: Chat moderation
Yes, I do know that. TeamTaycob 13:24, April 20, 2012 (UTC)
Oh, I didn't know TLE did that, sorry. And LT was in chat before, once. He claimed to be drunk, though, so I don't think that time would count. :-P TeamTaycob 13:53, April 20, 2012 (UTC)
Yes, I was a wee bit drunk -- I'm Irish aren't I? I've been on there twice now and I had noticed before that I could "kick ban". I figured that was part of my shiny admniship badge. I saw promotions of "Chat moderation" going around and since I didn't have it on my user rights page, I thought it was an extra option available to me, say editing a chat post if it contained vulgar language. Regardless... I didn't want to be left out. :P LuckyTimothy 17:42, April 20, 2012 (UTC)
Re: Porn links.
Done, thanks. -TagAlongPam (talk) 15:40, April 21, 2012 (UTC)
RE: Thought you were on honeymoon
My husband and I got home last night, actually. Savannah Pierce Hunter 15:46, April 21, 2012 (UTC)
Re: Chat Moderation
我知道,可是,我想了。Lol, sorry, forgot I had chinese :D! I know, I just really wanted to feel all official about it xD!!!! -TheLunarEclipse
Breaking Dawn Links and bird obession question
Hey Minor, I was just stopping by your talkpage and I want to say hi and how are you. Plus I have got some news for you here are some links below that might have some interests to you
I have got a question for you though, what is your obession with birds. Sorry I asked but it is like driving me up the wall.
I must of admit that i love your craziness. If people were sane then the world be boring. Being a little insane makes the world more funner to be in. Hey Minor, don't worry about my question the bird thing. It was harmless.