I am male student and I was born on 13.Nov.1989 in Austria.
If you want, you can leave a [message] or send me an [e-mail],
but don't forget to look at my [Userpage].
Hello!
I was very active in August,September 2010, but now I'm not aktiv, but anyway feel free to leave me a [message] or look at my [Userpage].
Archives
66px
This user is from

Austria
Welcome to JoKalliauer's talk page. JoKalliauer's local time is: summertime: 2:17 AM wintertime: 1:17 AM .
Click here to refresh.
Archive
For all who are looking for an old message please look
REDIRECT User_talk:JoKalliauer/Archive_1 for July 16, 2010 - End of September 2010
Talk pages
Jo,
sorry if I bother you, but do you happen to know whether under the new look the talk pages still exist? The articles' not the users' I mean.
Many thanks! Ngebendi 14:31, October 1, 2010 (UTC)
It definitely should! You can't discuss everything on user talk pages. Many thanks, it was an exhausive answer. Ngebendi 17:55, October 1, 2010 (UTC)
In this case, "you" assumes an impersonal menaing. "You can't discuss everything on user talk pages." means, "Not everything can be discussed on user talk pages."
If one is discussing something with somebody else (TagAlongPam and me, for example) and expects an answer from her or him, the personal talk pages should be used - an answer from the other party is expected. If one is working on a page ("Shields" for example) and needs advice relative to the page, but does not care who gives it to him, then it is best to use the article talk page: anybody can give an answer.
BTW, I notice you copied part of an exchange between CharmedJay and me. Though it is relevant to the page, it was not exactly appropriate for you to do so, since: 1) it was posted on a personal talk page, and 2) there is a bit of a disagreement between the two of us. Ngebendi 11:47, October 2, 2010 (UTC)
Bureaucrats
Jo,
you may have missed a supremely important item about TagAlongPam: she's a bureaucrat. Perk of that job is that she can make and unmake administrators of other wiki members; simple administrators can't. No wonder everybody listens to her!
Ngebendi 22:09, October 5, 2010 (UTC)
Jo - I agree with you we've got a good set of admins and that the environment of this wiki is easygoing and polite enough not to require harsh measures. But that we haven't witnessed any admin getting un-administered does not mean that it will not happen; I meant to point out that the members of this wiki show also a practically-minded behavior - since the wolf sleeps, they let her lie. :) Ngebendi 15:22, October 6, 2010 (UTC)
Bandwidth

I'm not sure if this is just me, but a lot of pictures on your profile say "Bandwidth Exceeded" by Photobucket. Just wanted to see if it's like that for you or anyone else, but it never happened before.

(talk) 17:11, October 6, 2010 (UTC)

Cool. Good to hear that it works again.

(talk) 18:02, October 14, 2010 (UTC)
no way!
my birthday is in the same month as yours awsome but im younger by a few days DARN!!! i realy cant be bothered with the leader table any more. lolJane and Alec 12:15, October 7, 2010 (UTC)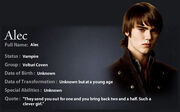 Hi.
How can I make my own "fact-list like when u born and when u turned into a vampire and......?
~Memediii~
—Preceding unsigned comment added by Memedi (talk • contribs)
is it that way u did edit your infobox?
the infobox that i mean is where there is :
first a picture
second where there stands biographical information
third is physical information
and bla bla bla....

is it this, u tried to learn me ?
.
—Preceding unsigned comment added by Memedi (talk • contribs)
ok
thats ok!!
another friend helped me to make it :D
good luck with your ... university thing :$
Memedi 09:45, October 18, 2010 (UTC)
Starting a list.
Jo,
it actually was about the Twilight-mythical vampires page, but it got deleted - LuckyTimothy is the evildoer. Since I transferred what was worthwile to the vampire page anyway, it does not matter. Not that I like the lists anyway, but it was a chance to do something silly, anyway.
Ngebendi 16:51, October 18, 2010 (UTC)