Please people do not touch my page because IT'S MINE!!!! I won't touch yours if you don't touch mine...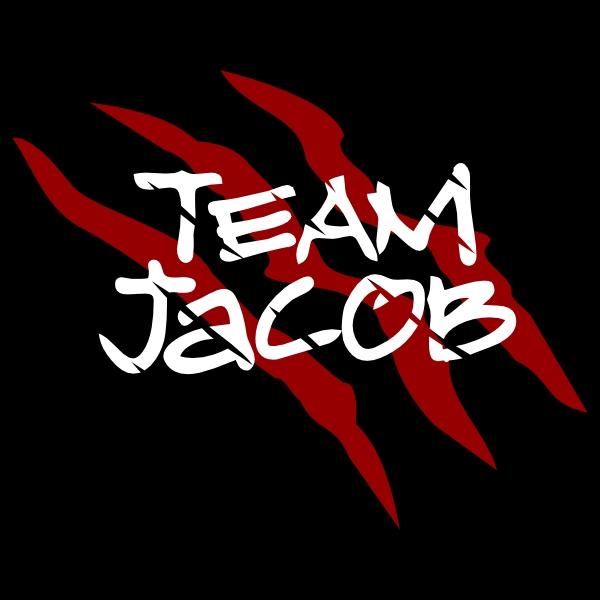 I am obviously on Team Jacob. My friends and I came up with this,
     Jacob will marry Renesmee and have a son named Jackson Alexander. But shortly after 

Renesmee will die in a car crash. About a year later Jacob will meet Cassandra Lee. They start dating and eventually get married, and Cassie and her daughter, Alexis Amanda, will move in with Jacob and Jack. They soon find out that Cassie is pregnant and gives birth to Jacob's daughter who is named Vanessa Elizabeth. Then about a year later Cassie gets pregnant again. This time they have twin boys, Sirius Quil and Ryan Seth. About the time that Alexis turns fifteen, the Cullens eat some rabid food and go insane, attacking the first person they see. That person happened to be Jacob's step-daughter, Alexis. She is bitten many times on the arm. After that her brothers and sister come to the rescue along with Jacob. Her sister Vanessa turns into a cougar and guards Alexis while the rest of the Quilette pack fight the Cullens off. Sam is nearly killed after suffering two punctered lungs and every bone in his body being broken, Sirius has both legs broken, Ryan's arm is shattered, and Jack suffers a skull fracture. Bella is the one who bit Alexis and is covered in mud and comes back to her senses after the damage to the wolves is done. She runs back to her house not even looking at Edward. Sam soon dies after, and Alexis is now half vampire and half human. After Sam's funeral, Alice comes up and tries to apologize for what happened, but is silenced by Alexis' ranting, "You think that after what your family did to mine, you can come up and try to talk us into forgiving you? I can never be near my friends when I get hungry, Emily's baby will never know it's father, and you think that by saying on behalf of all the Cullens we are sorry please forgive us that we will forget everyhing!" And so the Cullens are never allowed near La Push ever again
Alexis Amanda 
Human 
Cassie's daughter

Jackson 'Jack' Alexander Shape shifter/ wolf/ snow white with green eyes Jacob's son
Vanessa Elizabeth Cassie and Jacob Shape shifter/ anything/ invisible
Sirius Quil Cassie and Jacob Shape shifter/ wolf/ jet black with blue eyes
Ryan Seth Cassie and Jacob Shape shifter/ wolf/ looks exactly like his father
And so, I END UP WITH JACOB AND THE FILTHY BLOODSUCKERS STAY AWAY!!!! :p in ur face team edward!
Cassie luvs Jake!!!! 19:04, 17 May 2009 (UTC)