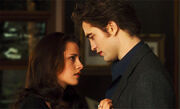 Welcome to the Twilight Saga Wiki, and thank you for your edit to the Talk:Eclipse (film)/@comment-*DARKANGEL*-20100527231919 page!
There's a lot to do around here, so I hope you'll stay with us and make many more improvements.
Recent changes
A great first stop, because you can see what other people are editing right this minute, and where you can help.

Stubs
These are very short articles that need your help in expanding them. Check them out and see what you can do!
Questions? You can ask at the Help desk or on the "discussion" page associated with each article, or post a message on my talk page!
Need help? The Community Portal has an outline of the site, and pages to help you learn how to edit.
I'm really happy to have you here, and look forward to working with you!
--*DARKANGEL* 20:15, October 25, 2010 (UTC)
I edited your userprofile
Edit
I hope you don't mind, that I edited your userpage, but I think it is more beautiful if "About Me" starts under the left Pic.
I just added:
<br style="clear:left;" />
If you have a question, please ask me.
 — Johannes Kalliauer (talk)♥

21:28, September 8, 2010 (UTC)
Thank you
Edit
thank you!
About me♥ is no headline
you added
to your Userpage but I would change it to
</gallery><h2>About me♥</h2>
or to
cause then it would work
 — Johannes Kalliauer (talk)♥

07:54, October 2, 2010 (UTC)
Done I changed it for you: you just have to write [[Alice Cullen]] then it links to Alice Cullen, but if you make a spelling mistake like you did with Renesmee Carlie Cullen it won't work.

 —  Johannes Kalliauer (talk) ♥

Your favorite couples♥
Edit
I changed it from
to
here ist the code:

*[[Edward And Bella]]
*[[Alice and Jasper]]
*[[Emmett and Rosalie]]
*[[Carlisle and Esme]]
*[[James and Victoria]]
*[[Victoria and Riley]]
*[[Laurent and Irina]]

And some more little changes.
I changed it, but if you don't like it, or like something different, tell me.
If you don't like changing your Userpage without asking you first, like I had done last time, tell me.
 — Johannes Kalliauer (talk)♥

16:02, November 1, 2010 (UTC)
You just said


Awaken, so I gave you the vampire edition, because I think you prefer the vampires, cause of your favorite characters, but you can also have the


wolf edition
Sorry for not awarding sooner, but I am inactive now, and I think since the new skin doesn't support the old Awards, the most Admins prefer the new automatic Awards.
 — Johannes Kalliauer (talk)♥

16:02, November 1, 2010 (UTC)
Your sign doesn't link to your Userpage.
You can change it in Special:Preferences.
If you need help to change it ask me.

 — Johannes Kalliauer (talk)♥

16:02, November 1, 2010 (UTC)
I like your page.
Master Assassin Ezio Auditore da Firenze 04:11, April 3, 2011 (UTC)Master Assassin Ezio Auditore da Firenze