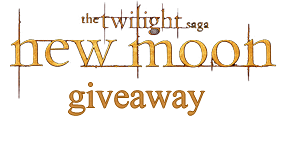 The New Moon Giveaway is closed. Thank you to all who entered. Check back to see who our winners are!

Congratulations to our WINNERS
Mom2anutball
Kmanwing
ClownX
Firefight94233
Bigbrologan
NessieandJacobForever
Jrockftwx3
Kalayla
Silver Sweet
Maggie09
Fanpire011
GinHobbs
Selenag
Twlightluver
Mellicoolio
Optimous

How it works
THE GIVEAWAY HAS CLOSED. THANK YOU TO ALL WHO ENTERED.
Create an account! Anonymous posts WILL NOT be registered to win, so make sure you register!

Leave a comment on this blog entry stating either Cullens or Volturi as your choice.

NOTE: you must be logged in!
What you can win!
Each winner will receive one of the following twidonkulous prizes:

Twilight Limited Edition Trading Card Set w/ Official Binder
GRAND PRIZE (1 to give away)

The Twilight Saga: New Moon Soundtrack (5 to give away)

The Twilight Companion: The Unauthorized Guide to the Series
(5 to give away)

Twilight: The Complete Illustrated Movie Companion
(5 to give away)
Rules
The Giveaway has closed, thank you to all who participated. Check back to see who the winners are
Open for US residents only. We know it sucks, but check out the official rules for details.
Contest ends on November 25, 2009.
Winners will be randomly selected from all eligible entries.
Once you've posted your choice, be sure to tell the world which coven you've joined!
Ad blocker interference detected!
Wikia is a free-to-use site that makes money from advertising. We have a modified experience for viewers using ad blockers

Wikia is not accessible if you've made further modifications. Remove the custom ad blocker rule(s) and the page will load as expected.