SINCE the release of Stephenie Meyer's Twilight novel in 2005, a huge fanbase has followed Bella Swan falling in love with 104-year-old enigmatic vampire Edward Cullen.
That intensity has transferred to the film adaptations starring Robert Pattinson, Kristen Stewart and Taylor Lautner.
And, with the third film Eclipse due out on July 9, a new DVD called Twilight: An Obession, The Unauthorised Story promises a behind-the-scenes exposéon what is undoubtedly one of the world's most celebrated phenomena since Harry Potter.

The DVD allows viewers to get up close and personal with the sultry vampire played by Robert Pattinson, his on-and-offscreen flame Kristen Stewart and co-star Taylor Lautner, who plays native American wolf-shapeshifter Jacob Black.
Released on July 5 by 4 Digital Media, the disc comes with extra features including:
Teen Stars: A look at the rise of young stars like Dakota Fanning, one of the stars in New Moon and Eclipse, as well as Daniel Radcliffe, whose entry into films came at the tender age of 12
True Blood: Comments from series stars Anna Paquin and Michael McMillian on the storylines, audience and continuing success.

Vampires: Ever since Bram Stoker's classic Dracula, the vampire obsession has exploded. From Nosferatu to Interview with the Vampire, the genre has spawned a plethora of reworks, images and ideas on how a vampire would fit into modern society, as is documented here

Harry Potter: This extra shows a glimpse of JK Rowling, the actors from the films and the fans' appreciation of the stories. It also highlights Harry Potter's parallels with the Twilight Saga in terms of the diehard fans, international recognition and phenomenal box office takings.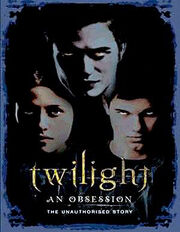 VAEslabra 03:13, May 22, 2010 (UTC)
Ad blocker interference detected!
Wikia is a free-to-use site that makes money from advertising. We have a modified experience for viewers using ad blockers

Wikia is not accessible if you've made further modifications. Remove the custom ad blocker rule(s) and the page will load as expected.