Edward Cullen (born Edward Anthony Masen, Jr., on June 20, 1901 in Chicago, Illinois) is a telepathic vampire and a 'founding member' of the Olympic Coven, as well as a main protagonist of the Twilight Saga.
He is the husband of Bella Swan and the father of Renesmee Cullen. Edward is the adoptive son of Carlisle and Esme Cullen, as well as the son-in-law of Charlie Swan and Renée Dwyer and stepson-in-law to Phil Dwyer through his marriage to Renee. He is the adoptive brother of Emmett and Alice Cullen, and Rosalie and Jasper Hale.
After nearly dying from the Spanish influenza in 1918 in Chicago, Edward was turned into a vampire by Carlisle, as the only alternative to death. Over the next ninety years, the pair gathered a family of vampires around themselves and called themselves "vegetarians".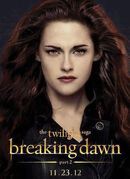 Bella Swan (later Cullen), was born to Charlie Swan and Renée Dwyer on September 13, 1987, and is the main protagonist of the Twilight Saga. In Twilight, she is a 17-year-old girl who transfers schools from Phoenix, Arizona to Forks, Washington to live with her father Charlie, where she meets and falls in love with a vampire, Edward Cullen.
In Breaking Dawn, she marries Edward on August 13, 2006 and becomes a member of the Olympic Coven. She is transformed into a vampire by Edward after nearly dying giving birth to their daughter, Renesmee Cullen, a vampire/human hybrid. Bella is the daughter-in-law of Edward Masen Senior and Elizabeth Masen, as well as the adoptive daughter-in-law of Carlisle and Esme Cullen. She is the adoptive sister-in-law of Alice and Emmett Cullen, and of Jasper and Rosalie Hale.
As a human, Bella possessed a natural immunity to the mental powers of vampires. After her transformation into a vampire, she develops it into the ability to project a mental shield that protects others from the psychic powers of other vampires.
When ever Edward tells Bella the Volturi is coming for Renesme, she says "she was born not bitten, she grows everyday.".
so do you like it, this is my suggestions!!!!
Ad blocker interference detected!
Wikia is a free-to-use site that makes money from advertising. We have a modified experience for viewers using ad blockers

Wikia is not accessible if you've made further modifications. Remove the custom ad blocker rule(s) and the page will load as expected.