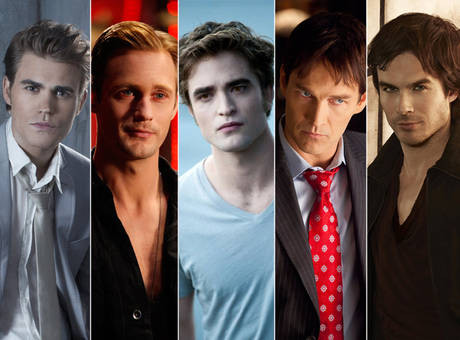 Right, we have seen all of them be vampires, now we have to vote for the vampire king off all.
The following has been voted the top five vampires of all time, now it is our turn to crown the winner King of all Vampires. Since they have first started which one do you like the most? Which one do you think is going to win this? And also who is going to be crowned? Those three questions you have to answer in your head and then type your answer out.
Your Candidates
Candidate One - Stefan Salvatore - The Vampire Diaires
Candidate Two - Eric Northman - True Blood
Candidate Three - Edward Cullen - Twilight
Candidate Four - Bill Compton - True Blood
Candidate Five - Damon Salvatore - The Vampire Diaires
So which one are you going to choose?
Have fun choosing?
Reminder:
Poll ends on 12-12-12
Extra information:
There will be a King of All Werewolfs Poll after this one has been judged.
Ad blocker interference detected!
Wikia is a free-to-use site that makes money from advertising. We have a modified experience for viewers using ad blockers

Wikia is not accessible if you've made further modifications. Remove the custom ad blocker rule(s) and the page will load as expected.