This is for all Justin Bieber fans on here, so enjoy this. Justin Bieber is one of the 100 powerful celebrities out there, he might over take Taylor Lautner and Robert Pattinson, fans look out. Are you excited for his international tour that he said on the Ellen show a few weeks ago, plus I know there are a few fans of the biebs but I am not saying.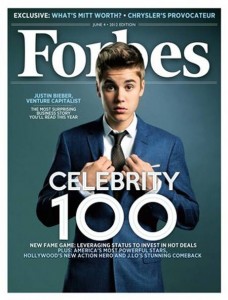 Justin Bieber is a worldwide superstar. Anywhere he goes he has mobs of fans following his every step and the paparazzi is not far behind. Bieber continues to have the world in awe of him, so much so that Forbes magazine recently named him one of the most powerful celebrities in the world, and put him on the cover of the magazine.
We exclusively spoke to Bieber who told us that it was an honor to be on the cover of the magazine at only the age of 18. He went on to tell us that he is having so much fun with his career right now, and staying true to himself and love for his fans is what helps keeps him humble.
Source: http://foxallaccess.blogs.fox.com/2012/05/30/with-forbes-cover-justin-bieber-means-business/
Follow us on Twitter http://twitter.com/FOXALLACCESS

Follow us on Facebook: http://www.facebook.com
Ad blocker interference detected!
Wikia is a free-to-use site that makes money from advertising. We have a modified experience for viewers using ad blockers

Wikia is not accessible if you've made further modifications. Remove the custom ad blocker rule(s) and the page will load as expected.