If you want to see a car that is covered with the Twilight Saga Breaking Dawn Part One poster on it and this is the only one in the World would you want it.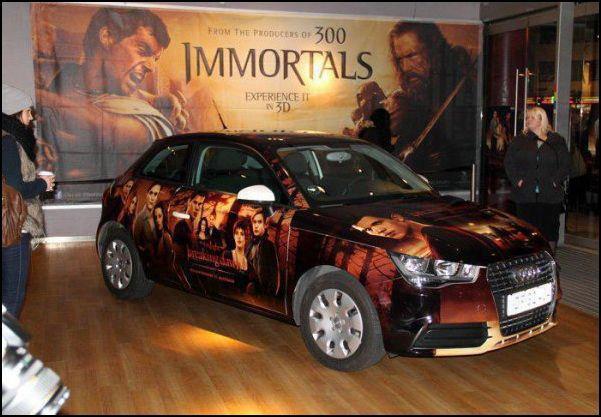 Do you want one like this. Or you'd like to have a picture taken with it. Then you might have a little trouble with this. Appartrently this car is on high secrity level. The car has to have guards around it 24-7. Which is understandable, this is the only one in the world. This is a car that all Twilight Saga FANS around the world would like. I am saying to my mom and dad that "Can you buy this car for me" They are like "It would be to expensive to buy" I am like "Please, would you do it for me. I am your angelic daughter" They are like "I am not falling for that one. You get enough as it is." I am like "Naw, that sucks!"
Ad blocker interference detected!
Wikia is a free-to-use site that makes money from advertising. We have a modified experience for viewers using ad blockers

Wikia is not accessible if you've made further modifications. Remove the custom ad blocker rule(s) and the page will load as expected.