Comments

0
The Hunger games beat Breaking Dawn for the best kiss
Ad blocker interference detected!
Wikia is a free-to-use site that makes money from advertising. We have a modified experience for viewers using ad blockers

Wikia is not accessible if you've made further modifications. Remove the custom ad blocker rule(s) and the page will load as expected.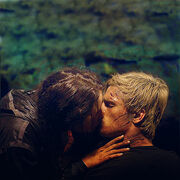 It says in this article (
http://www.hollywoodlife.com/2012/04/10/twilight-hunger-
games-best-kiss-mtv-movie-awards-video/?v02
) that The Twilight Saga Breaking Dawn Part One was defeated by the Hunger Games for the best kiss. I wonder if the poll was correct or incorrect, but is unknown for how this was to be. But if you want more news about anything that is related to The Hunger Games or The Twilight Saga just use this link (
http://www.hollywoodlife.com/?v02
) to find anything you want.
Are you worried that the Twilight Saga might be losing it's popularity? I know I am worried about it every single day. But I am hoping that is will pick up as soon as the second part of The Twilight Saga Breaking Dawn Part Two. I am so excited for it. Though, this might be a little scare but it can be fatal to its fans. I know my friends who like the Twilight Saga are worried if The Hunger Games gets more popular then Twilght Saga will end up losing a lot of fans. I am pleading for this to not happen. I know the Hunger Games have got more movies to do but why take The Twilight Saga's fans away from Twilight.