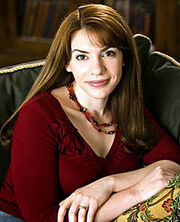 Twilight Saga
and The Host author
Stephenie Meyer
is expected to return to her computer this month to begin writing again.
She's been working as a producer on The Host this year, but the films production wrapped yesterday, and she reported on her blog, "I'm looking forward to this May, when I will officially be home for good and back here at my computer where I like to be best."
Unless her recent book-to-film adaptation project acquisition changes her plans, it's time!
So, what will Meyer work on next?
Last year, Meyer told USA Today about three possibilities.
One is a fantasy novel which she described as taking "place in another world where people are using bows and arrows and swords. There's a little bit of magic, but it's a very limited form of magic. The characters are human, and some have the ability to use magic and some don't. It's pretty dark. People die. The main character is a 17-year-old girl, and she's kind of cool."
She also mentioned her interest in a story about mermaids, which she already has "a very elaborate outline for a book" about. At the time, she reported, she was "
not working on it right [then], but I have the feeling it's going to be big. It's going to be 1,000 pages
."
The third potential writing project for Meyer is the second installment to her The Host trilogy. She explained last year, "I have the outline written and the first two chapters. I need to get on it."
In the attached video interview from last summer, Meyer talked about these potential projects and more, saying, "I'd love to write mermaids, not in the way that anyone would expect them because it all sounds kind of glittery and splashy and fun and it wouldn't be like that. You know, and then there's my aliens I may go back to at some point . . . There's some time travel things that I've been fascinated with and other things. I don't know that I could write without a supernatural element, but there's so many things that would be fun to do, so I'm not locked in yet."
The lingering other possibility, of course, is
Midnight Sun
, the version of Twilight she began writing from the perspective of "
Edward
" but later abandoned after a draft of the book leaked online. That project seems the least likely, though, given her statement about the issue last year to USA Today: "
I'm hoping to do it someday because I know that's what people want. No matter what book I put out from here to eternity they'll want Midnight Sun, but I'm just not writing about vampires right now.
"
What do you hope she'll write about next?
Sourcer: http://www.examiner.com/article/stephenie-meyer-to-pick-up-writing-again-what-will-she-author-next
Enjoy!!!
Ad blocker interference detected!
Wikia is a free-to-use site that makes money from advertising. We have a modified experience for viewers using ad blockers

Wikia is not accessible if you've made further modifications. Remove the custom ad blocker rule(s) and the page will load as expected.