Well, we finally have seen the last ever Trailer of the Twilight Saga Breaking Dawn Part 2, but it is coming to end very shortly, who is ready to say good bye to it. http://movies.yahoo.com/blogs/movie-talk/exclusive---the-twilight-saga--breaking-dawn---part-2--goes-big-with-its-final-trailer.html that link that Dee shared with us in her blog is where you can see it.
Final 'Twilight: Breaking Dawn – Part 2′ trailer released in full!
After a 10-second preview Wednesday and a 90-second preview yesterday, Yahoo! has now premiered The Twilight Saga: Breaking Dawn – Part 2 's final trailer.
The trailer is 2 minutes and 20 seconds in length. It includes roughly 50 seconds of additional video that was not seen in last night's preview at the MTV Video Music Awards.
By watching you'll see lots of Bella discovering her vampire abilities while Edward looks on in amazement. Additional scenes include Alice's vision that the Volturi are coming for the Cullens, sweeping shots of the epic final (battle?) scene, and more. "I'll never let anybody hurt you," Bella promises to Renesmee .
Recently, fans have wondered if the final battle in the film will actually be a vision of Alice's, meaning a fight does not actually happen. Readers know that in the Breaking Dawn book by Stephenie Meyer there is not a fight in the finale. The lack of a fight in the film would create an anti-climax, and that would likely hurt the film's storytelling.[1]
Ref's
Gallary of The Trailer
Trailers
Trailer One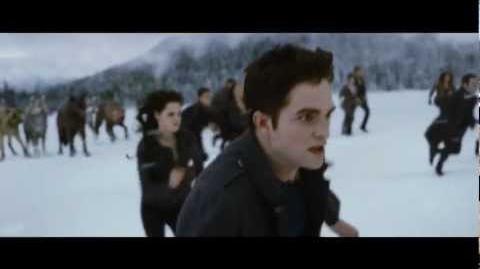 Trailer Two (Video Music Award)
Trailer 3
More Information
Slider