Robert Pattinson talks on winning the Best Kiss with Kristen Stewart who is his on-screen wife Bella Swan and off-screen girlfriend/fiancee, so here is the clip.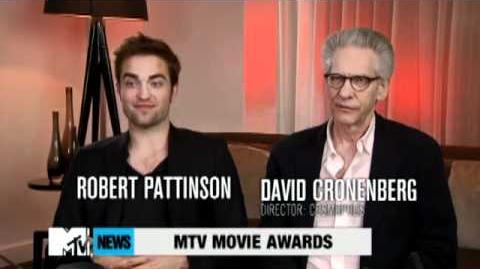 The Breaking Dawn Movie New Org says:
"I hope he's seen Kristen's acceptance speech for Best Kiss now. Cronenberg at the end saying that's a good talent to have. LOL!"
A Few Fans Response:
"I wish she'd told him that Kristen first called out for her huntsman, Chris Hemsworth, to come and kiss her. I would've liked to see that vein pop out in Rob's forehead...LOL...oh and For the last movie, I would LOVE it if Rob just said the heck with it and grabbed her, kissed her full with tongue right there for the whole world to see!!! YAY!! That's my dream and I'm sticking with it!! LOL"
"I said the EXACT same thing!!! They need to leave with a bang!!!!!!!!!!!!!! And I love your stories on fanfic!!!!!!"
"they need to win next year so we can finally see them kiss!!"
"He is sooo adorablllee!!!! AAAAHHHH"
Enjoy!!
Ad blocker interference detected!
Wikia is a free-to-use site that makes money from advertising. We have a modified experience for viewers using ad blockers

Wikia is not accessible if you've made further modifications. Remove the custom ad blocker rule(s) and the page will load as expected.