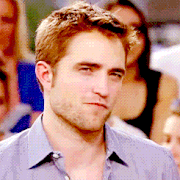 From Gossip Cop:
Robert Pattinson was caught off guard by at least one new casting rumor quickly spreading online.
A number of outlets have reported that the actor is in the mix to join Catching Fire, the sequel to The Hunger Games, in which he'd supposedly play Finnick Odair.
Pattinson cleared up that rumor on Saturday at the Cannes Film Festival, where he premieredCosmopolis on Friday.
"I woke up this morning and saw all these things about me being cast in The Hunger Games," Pattinson told [USA Today]. "I was kind of curious for a second. So I called my agent."
He continued, "My agent was like, 'No.'"
Pattinson laughed and said his agent told him, "No one's going to offer you that part. I was like, 'Thanks for the reassurance.'"
So there you have it.
The star of The Twilight Saga is not planning to leap to The Hunger Games series.
Did many of you hear this rumour??
[Source:| Gossip Cop]
Ad blocker interference detected!
Wikia is a free-to-use site that makes money from advertising. We have a modified experience for viewers using ad blockers

Wikia is not accessible if you've made further modifications. Remove the custom ad blocker rule(s) and the page will load as expected.