[[Robert Pattinson|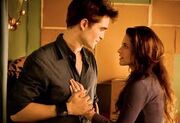 Robert Pattinson]] (Edward Cullen) has been spotted for the first time since it
emerged his girlfriend Kristen Stewart (Bella Cullen) had been cheating on him.
The Twilight star was seen 'in good spirits' in a music club which offers 'warm cowgirl hospitality' on Friday night.
A gang of his companions accompanied him to the The Deer Lodge in Ojai, California, which is near the ranch he has been given the run of by Water for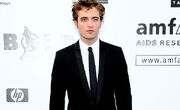 Elephants co-star Reese Witherspoon.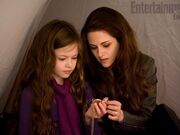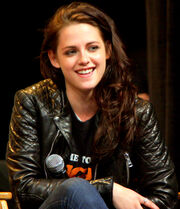 It seems his friends thought a spot of country music may help heal his achy breaky heart. Ojai is about a 90 minutes from the home the 26-year-old used to share with Kristen, before it emerged she had been cheating on him with her Snow White and the Huntsman director Rupert Sanders.
An employee at the establishment told Radar: 'I've been told by several people that Robert Pattinson was here enjoying the music with his friends.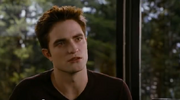 'He seemed in good spirits. I wasn't on that night so I didn't personally see him,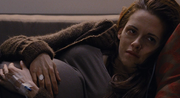 but several others did.'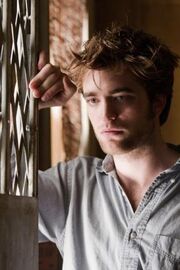 The Deer Lodge has been a popular entertainment venue since 1932, and offers live music, dancing, restaurant and, according to its website, plenty of 'warm cowgirl hospitality.'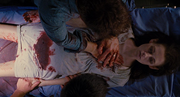 Venue patron Julie Demdam tweeted yesterday: 'Awesome night in Ojai. Got to hang with a rowdy bunch of Brits and one of them happened to be Edward.
'He wasn't moping and the girls were definitely just his friend. The girls were drunk and literally danced on the floor.
'The girls were nice. I stood next to them at the bar.
'He wasn't drunk. Just taking in the scene. Smoked next to him outside.'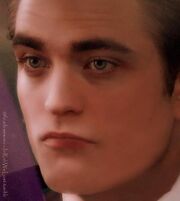 The establishment was playing host to indie no-hopers The Lonely Wild, a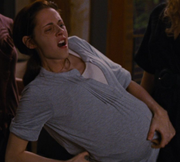 lightly regarded outfit from LA.
But the experience of seeing some live music will have been catharthic for Robert, as the A-list star is also a musician who plays the guitar, piano and composes his own music, even singing on the Twilight soundtrack.
It comes after it emerged he was struggling to come to terms with his lover's infidelity with Snow White And The Huntsmen director Rupert Sanders.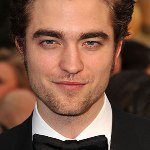 Radar reported the actress is 'crying non-stop' at the home of producer Giovanni Agnelli who she has been staying with since the split.
English star Robert is extremely upset about the arrangement, even accusing Agnelli of having an affair with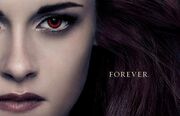 Kristen.
Source: http://www.dailymail.co.uk/tvshowbiz/article-2184171/Trying-heal-achy-breaky-heart-Robert-Pattinsons-friends-cheer-taking-cowboy-club.html#ixzz22pf0eit1
Ad blocker interference detected!
Wikia is a free-to-use site that makes money from advertising. We have a modified experience for viewers using ad blockers

Wikia is not accessible if you've made further modifications. Remove the custom ad blocker rule(s) and the page will load as expected.