Creating an account on Wikia is free and easy, and a great way to join a passionate community of people who love what you love. Having an account also gives you extra abilities and features that un-registered users do not have access to. Your account is used on every Wikia wiki, so you only need to create it once and you will be able to log into every Wikia community.
Step by step
How To Create An Account
On the top right of every page on Wikia, you will find links to create an account, sign in as well as use Facebook connect to log in. You can also visit Special:Signup

An account creation page will load, and allow you to fill in your account details.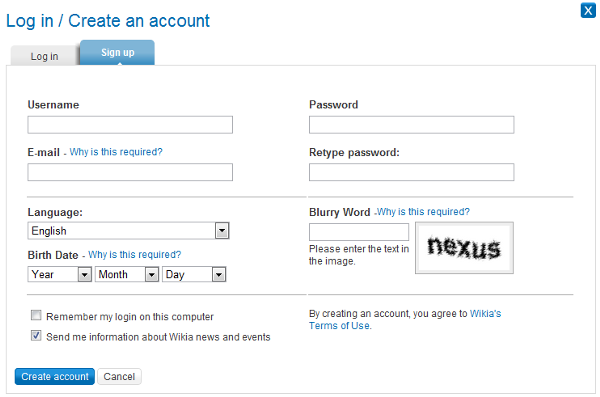 Features for registered users
As a registered user, you are able to:
Keep track of your contributions
Follow your favorite articles
Enable email notification to be notified of changes
Create a user page to describe yourself
Maintain a user talk page where others can contact you
Personalize your preferences to tailor the functionality of Wikia to your needs
Upload photos
Customize your personal stylesheet to change your view of Wikia sites
Rename pages (with the "move" tab)
I forgot my password. What can I do?
If you forget your password, you can easily have a new one sent to you on the Log-in page. Simply click on the Log-in text on the top right. You can then choose to have a new password emailed to you.
If you remember your password, and simply want to change it, visit Special:changepassword.
Can my account be deleted?
It is not possible for accounts on Wikia to be fully deleted, but they can be disabled.
If you want to use a different username, you can create a new account and begin using the new one instead (or rename the account).
If there is a risk you will be suspected of "sockpuppetry" (using two or more duplicated accounts for malicious purposes such as double voting), and you should add a note to the user page of the sockpuppet accounts to make it clear you have changed your username.
Next steps
Learn how to set up your user page
Learn how to edit
Learn how to create a new article
Further help and feedback
Check Help:Getting help on Wikia for sources of further help
Check Help:Contacting Wikia for how to report any errors or unclear steps in this article
Source:
Ad blocker interference detected!
Wikia is a free-to-use site that makes money from advertising. We have a modified experience for viewers using ad blockers

Wikia is not accessible if you've made further modifications. Remove the custom ad blocker rule(s) and the page will load as expected.