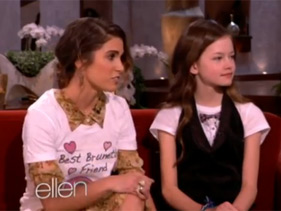 The latest round of talk-show musical chairs continues for the cast of "The
Twilight Saga
:
Breaking Dawn - Part 2
" as co-stars
Nikki Reed
(
Rosalie Hale
)and
Mackenzie Foy
stopped by "The Ellen DeGeneres" show today to chat about the film franchise's finale, due in theaters November 16.
As any Twilighter can attest, Mackenzie's on-screen alter ego, Renesmee, goes through quite the evolution in this conclusion, aging from a newborn baby to a young child in a manner of weeks (thanks, vampire blood!). And for the young starlet playing the adorable half-human, half-vampire wunderkind, it made for some surreal moments on set.
"It's kind of weird because it's not my body," Mackenzie said of the special effects used to paste her face onto different children—and props.
"I was holding the faceless babies, so it was also pretty weird for me," Nikki chimed in. "Her face was not on the baby yet, so that was my job."
A job made even more awkward by where the baby-handlers had to position themselves in order to control the artificial infant.
"They're robot babies," Nikki continued. "There was a man standing between my...between my legs on the floor, looking up at me, moving the robot arms."
Now that sounds truly terrifying.[1]
Other News
Stephenie Meyer recalls seeing Edward and Bella for the first time.
Our walk down "Twilight" memory lane continues, this time with the woman who started it all:
Stephenie Meyer
. The authoress stopped by our recent MTV First: "The Twilight Saga: Breaking Dawn - Part 2" during which Josh Horowitz asked her to recall the first time she saw
Robert Pattinson
and
Kristen Stewart
as her beloved
Edward
and
Bella
.
(MTV Clip Link = http://www.mtv.com/videos/movies/853003/stephenie-meyer-reunites-with-her-twilight-trio.jhtml#id=1696531)
"The first time I saw these two in character was on camera, and that was really
fun," Stephenie said. "I think the first scene I saw was in the forest with the 'How old are you?' [scene]. That was the first thing I saw. It was pretty amazing."
In fact, Stephenie (who served as a producer for the franchise's latter films) didn't even watch a screen test until the series' second installment.
"I didn't get to see the screen tests with any of them except for Taylor Lautner for 'New Moon,' and I do remember that, because it was really good," she recalled. "[Director] Chris Weitz sent it to me, and I thought, 'Oh, Taylor, wow!' You were pretty good too, Kristen."[2]
Ref's
Ad blocker interference detected!
Wikia is a free-to-use site that makes money from advertising. We have a modified experience for viewers using ad blockers

Wikia is not accessible if you've made further modifications. Remove the custom ad blocker rule(s) and the page will load as expected.