A special collector's edition dedicated to the upcoming Twilight Saga: Breaking Dawn - Part 2 of US Weekly is now out. The special edition features several new stills from Breaking Dawn - Part 2 including some new ones of Edward (Robert Pattinson) and Bella (Kristen Stewart), the new vampire covens, and a great shot of Charlie Swan (Billy Burke) sweeping the tiny Renesmee (Mackenzie Foy) up into the air. Check out scans of the new stills below:
Bella (Kristen Stewart) and her daughter, Renesmee (Mackenzie Foy)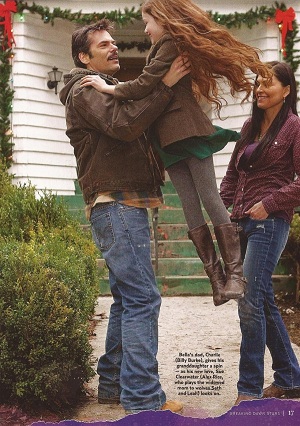 Bella's dad, Charlie (Billy Burke), gives his granddaughter a spin – as his new love, Sue Clearwater (Alex Rice, who plays the widowed mom to wolves Seth (Boo Boo Stewart) and Leah (Julia Jones) ) looks on.
Go check out all of the new stills at Twilight Life <3 here and order your own copy of the US Weekly Collector's Special – Twilight: Breaking Dawn -Part 2 on Amazon here or pick it up on your local newsstand.
Source: http://twilightersanonymous.com/new-stills-in-us-weekly-from-breaking-dawn-part-2-feature-renesmee-charlie-bella-and-more.html
Ad blocker interference detected!
Wikia is a free-to-use site that makes money from advertising. We have a modified experience for viewers using ad blockers

Wikia is not accessible if you've made further modifications. Remove the custom ad blocker rule(s) and the page will load as expected.