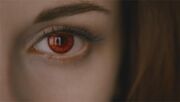 According to Summit/Lionsgate:
To help fans worldwide celebrate Edward Cullen's 111th birthday on June 20, 2012, Summit Entertainment, a LIONSGATE® (NYSE: LGF) company, will debut an exciting new teaser trailer for the highly anticipated THE TWILIGHT SAGA: BREAKING DAWN – PART 2.
Also according to Summit/Lionsgate
A 10-second sneak peek of the teaser trailer will be available on Tuesday.
Source: New Official Breaking Dawn Part 2 Teaser to Debut Wednesday(Click On The Link, To comment on it directly on the site)
SO enjoy!!!!
Ad blocker interference detected!
Wikia is a free-to-use site that makes money from advertising. We have a modified experience for viewers using ad blockers

Wikia is not accessible if you've made further modifications. Remove the custom ad blocker rule(s) and the page will load as expected.