Main article: Relationships
Edward is the husband of Bella Cullen and the father of Renesmee, and brother to Emmett, Alice and as well as Jasper and Rosalie Hale. He is the son-law of Charlie Swan and Renee Dwyer and he is also the step-son-in-law of Phil Dwyer.[1]
Film portrayal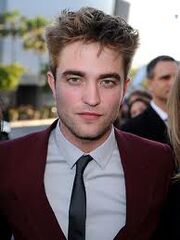 He is playing the role of vampire Edward Cullen and he got the role of Edward due to how he was with Kristen in Catherine Hardwicke's house, he was there to audition a scene of the movie when he and Kristen had to make out on her bed.[2]
Appearances
References