This is from the soundtrack of the breaking dawn and it is out very own Mia Maestro. We are all thankful that she contributed to the soundtrack. Because she spent more then a few weeks on this is song accordingly to tabloids. But who knows, but I am loving it. But it maybe a rumour but I heard that Robert Pattinson is contributing to the Twilight Saga Breaking Dawn Part Two soundtrack and one of his newest songs maybe in the movie, that is what I have heard. Is this true or not.
So here is the song and I hope you enjoy it as much as I did.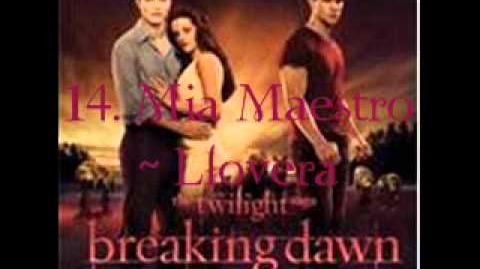 Ad blocker interference detected!
Wikia is a free-to-use site that makes money from advertising. We have a modified experience for viewers using ad blockers

Wikia is not accessible if you've made further modifications. Remove the custom ad blocker rule(s) and the page will load as expected.