Emmett Cullen - Dude, you're not motivating her.
Edward Cullen - You wanna try?!
Bella Swan - Kate!
Bella - Are you crazy?!
Kate - Alright. This one's on full power.
Edward - It's painful, but it's bearable.
Bella - Okay, we should go again.
Emmett Cullen - I'm good.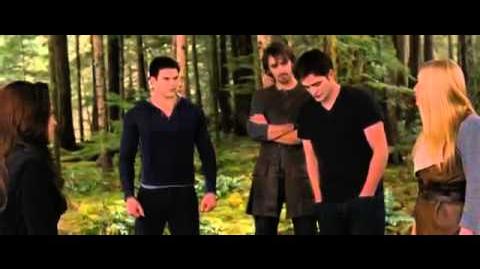 For those who have gotten a blogger site here is the embedded link below:
<iframe width="500" height="500" src="http://www.youtube.com/embed/CK1PpvwOxOw" frameborder="0" allowfullscreen></iframe>
Ad blocker interference detected!
Wikia is a free-to-use site that makes money from advertising. We have a modified experience for viewers using ad blockers

Wikia is not accessible if you've made further modifications. Remove the custom ad blocker rule(s) and the page will load as expected.