Talk about a blindside.
E! News has learned that
Kristen Stewart
(
Bella Cullen
) had a fling with her Snow White and the Huntsman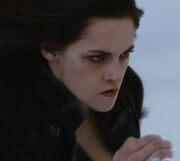 director, Rupert Sanders.
Stewart attended the Teen Choice Awards with her Twilight Saga costar and real-life boyfriend Robert Pattinson (Edward Cullen) just two days ago.
"Kristen is absolutely devastated," a source tells People. "It was a mistake and a complete lapse in judgment."
Us Weekly has also plastered a photo of Stewart and Sanders on its cover that would indicate the two had a romantic relationship.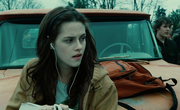 Reps for neither Kristen, Rob nor Rupert have commented on or moved to clarify what went down, including the possibility of whether this is all one big misunderstanding.
However, a source close to Pattinson tells E! News that Pattinson has always found fame.
"very difficult and isolating" and has long thought of Kristen as "the only person who he can talk to about that, and he feels like they are both on the same level and they understand one another."
"He worships her," the source said. "He doesn't think there is another woman on the planet who is as beautiful and kind as her.
He wants to be with her 24/7, he wants to marry her...as far as he is concerned, Kristen is his perfect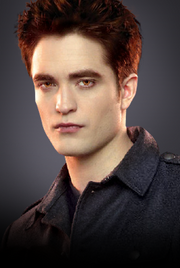 match...Kristen is perfect to him. That's why he's always known that someday she would be his wife."
And while Stewart seems to have the most to lose, PR-wise, Sanders isn't without his own baggage: the British director is married to 33-year-old model, Liberty Ross (who incidentally also starred in SWATH as Queen Eleanor), and they have two young children, Skyla and Tennyson, together.
As for what this means for the erstwhile Bella Swan and Edward Cullen, that, for now, is anyone's guess, though as any good Twihard knows, have been together throughout the filming of their blockbuster movie franchise. Though it's hard to pin down an exact date of their coupling, they went full-on public with their much-rumored relationship back in the spring of 2010.
And while the promotional rounds for the final installment of their franchise, Breaking Dawn: Part 2, will be a bridge to cross once they get to it, at least there will be no tense sets to return to. Production on the film wrapped up this spring.
Source: Is Kristen Stewart cheating on Robert Pattinson?
Kristen Talks Twilight at Comic Con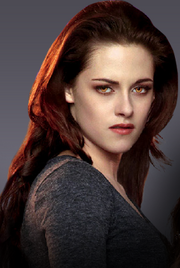 Kristen Stewart knows all about
transformation
.
In the past four years, Kristen the actress has transformed from girl to woman and Kristen's Twilight character, Bella, has transformed from human to vampire.
(Both in the public eye, may we add.)
However, the 22-year-old remains unfazed. In fact, she told E! News in an exclusive interview Thursday, "The cool thing about my job is sharing something that I love—it's the coolest, most unique, crazy, shared experience."
The actress was super-enthusiastic at Comic-Con.
Why?
The vixen vampire and the cast of Breaking Dawn Part 2, including on- and offscreen lover Rob Pattinson, heartthrob Taylor Lautner and the brains behind the beast, Stephenie Meyer, unleashed brand-new footage of the final installment of The Twilight Saga.
"They're gonna flip about what we show them today," she said with that coy, signature smirk of hers.
Kristen is enjoying her time at Comic-Con—more now than her first time promoting Twilight—because her "place makes sense."
Rob's leading lady wants fans to know she is just like them.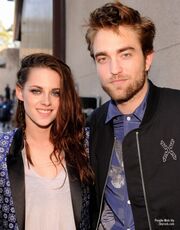 And, hey, maybe she is just your average girl next door….who happens to moonlight as a vampire.
Watch this exclusive clip to see what else Kristen has to say about Breaking Dawn and its collaborative cast!
Source: Kristen Talks Twilight at Comic Con
Robert and Kristen NOT Marrying
If you're looking forward to seeing Robert Pattinson and Kristen Stewart say "I do,"
you'll just have to watch Breaking Dawn. Because in real life, the Twilight twosome is in no rush to get married.
In an interview with BlackBook, Pattinson, 26, says he and Stewart, 22, aren't getting married—"at least, not yet."
"There was a magazine, with these pictures, saying I was getting married,"
he explains. "No one ever knows what is true or what isn't. Even my own mum called to ask me if it was true."
And while he hasn't put a ring on it with Stewart yet, it's not like the thought has never crossed his mind.
He says the brunette beauty "has always done something to me that others haven't."
Aw. Now, is it too much for us to inquire about a real-life Renesmee?
More Articles
Enjoy!!!!
Ad blocker interference detected!
Wikia is a free-to-use site that makes money from advertising. We have a modified experience for viewers using ad blockers

Wikia is not accessible if you've made further modifications. Remove the custom ad blocker rule(s) and the page will load as expected.