Article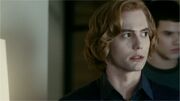 To all Jackson Rathbone fans out there it was confirmed that our Jackson is expecting a child with his girlfriend Sheila Hafsadi is going to have there first baby and she is due to give birth around the August-September months.
Jackson Rathbone is going from our vampire that we all love (a.k.a-Jasper Whitlock Hale) to a father this year.
There's a "Twilight" baby on the way, and were are not talking about Edward's and Bella's child.
"Twilight Saga" actor Jackson Rathbone age 27 and his girlfriend Sheila Hafsadi, are expecting their first baby. The actors rep confirmed to US Weekly.
Hafsadi, a burlesque dancer, is five months pregnant, according to US. The couple reportedly met while Rathbone was touring with his band 100 monkeys.
This will be the first babt for the actor, who will return to the big screen in the final installment of "The Twilight Saga" in november this year.
For more on Rathbones baby news head over to US Weekly.
The wording in the bold is from the first article that is listed below. The wording that is not bold is my own wording.
Plus there is a list of Ten Articles that you need to read fro yourselves.
Here is some sources:
Ad blocker interference detected!
Wikia is a free-to-use site that makes money from advertising. We have a modified experience for viewers using ad blockers

Wikia is not accessible if you've made further modifications. Remove the custom ad blocker rule(s) and the page will load as expected.