Today I have seen the movie of Hansel and Gretel movie with my sisters and my brother today and I found that it was actually quite a good movie and for the fact that it made get at the edge of my seat in some parts in it. Have you seen it, I reccomend you seeing it. It is a must see movie. 
Trailer
Movie Poster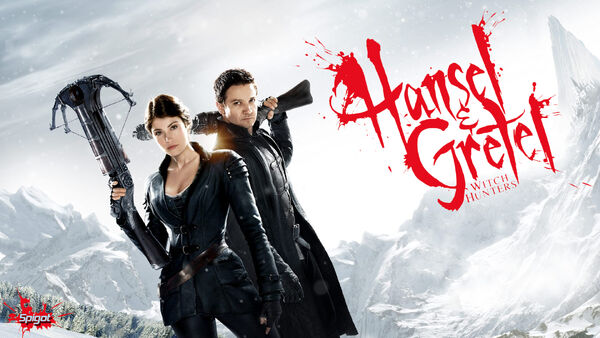 Movie Information
Plot
In this spin on the fairy tale, Hansel & Gretel are now bounty hunters who track and kill witches all over the world. As the fabled Blood Moon approaches, the siblings encounter a new form of evil that might hold a secret to their past.
Cast
Jeremy Renner-Hansel
Gemma Arterton-Gretel
Famke Janssen-Muriel
Pihla Viitala-Mina
Derek Mears-Edward
Robin Atkin Downes-Edward (voice)
Ingrid Bolsø Berdal-Horned Witch
Joanna Kulig-Red Haired Witch
Thomas Mann-Ben
Peter Stormare-Sheriff Berringer
See More: http://www.imdb.com/title/tt1428538/fullcredits?ref_=tt_cl_sm#cast
Trivia
Diane Kruger, Eva Green and Noomi Rapace were considered to play Gretel, but Gemma Arterton eventually got cast.
In an interview with Famke Janssen at Cannes 2011, she stated that she took her role as the head witch because she had to pay off her mortgage. Janssen has stated multiple times that since 2007, she was prepping her writing/directorial debut "Bringing up Bobby", where funding and distribution had gone through hard times, partly due to the 2008 economic crisis. She also had not done much acting in that period of time.
Not screened in advance for critics.
In the movie, Hansel is diabetic as a result of his experience in the gingerbread house as a child. In the original script, Gretel was also supposed to have an eating disorder as a result of her childhood trauma, but it was cut from the final version.
Source: http://www.imdb.com/title/tt1428538/trivia?ref_=tt_trv_trv
Goofs
When Hansel and Gretel are in front of the candy house, he eats colorful candy and she eats the white icicle. However when they go inside both of their mouths are colored.
When Hansel and Gretel first arrive at the candy witch's lair as children, Gretel pulls off the end of one of the icing icicles to eat it. In the next few shots, the icicle is shown as intact when it should have a blunted end.
When Mina is tending to Hansel's wounds next to the lake his arm changes positions between shots - from resting on his knee, then his thigh, then his knee again.
Ad blocker interference detected!
Wikia is a free-to-use site that makes money from advertising. We have a modified experience for viewers using ad blockers

Wikia is not accessible if you've made further modifications. Remove the custom ad blocker rule(s) and the page will load as expected.