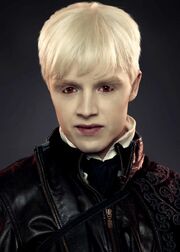 Last week saw the DVD release of both Ashley Greene's (Alice Cullen) LOL and Noel Fisher's (Vladimir) Hatfields and McCoys. In LOL, Ashley plays the part of Ashley, a girl who causes quite a bit of trouble for the main character, Lola. Then in Hatfields and McCoys, Noel Fisher plays Ellison'Cotton Top' Mounts. You can pick up both movies at your nearest DVD retailer or order them from Amazon.com
Synopsis:

As a new year at school begins, Lola's heart is broken by her boyfriend, though soon she's surprised by her best friend, promising musician Kyle, who reveals his feelings for her.
Ad blocker interference detected!
Wikia is a free-to-use site that makes money from advertising. We have a modified experience for viewers using ad blockers

Wikia is not accessible if you've made further modifications. Remove the custom ad blocker rule(s) and the page will load as expected.