Deadline is reporting that 'The Twilight Saga: Breaking Dawn – Part 2′ is breaking records already! This isn't surprising! Everyone is watching this teaser trailer!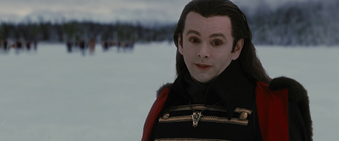 Summit Entertainment's 24-hour-old debut of the new teaser trailer for the last of the anticipated Twilight Saga films, Breaking Dawn Part 2 which releases November 16th, is already breaking records. It debuted exclusively on Yahoo and received 7 million views within the first day, the most ever for a trailer viewed on Yahoo. The previous record-holder on Yahoo was theTwilight Saga's Breaking Dawn Part 1.
Source: http://team-twilight.com/20120621/%E2%80%98twilight%E2%80%99-saga-finale-already-breaks-records/
Ad blocker interference detected!
Wikia is a free-to-use site that makes money from advertising. We have a modified experience for viewers using ad blockers

Wikia is not accessible if you've made further modifications. Remove the custom ad blocker rule(s) and the page will load as expected.