Comments

0
'Breaking Dawn Part 2′ Confirmed to be at Comic Con 2012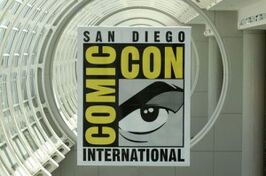 We're a month away from San Diego Comic-Con 2012, so all of the
Twilight
fans can start lining up outside Hall H right now.
Yes, it's been confirmed that Lionsgate- Summit's finale, The Twilight Saga: Breaking Dawn: Part 2, will be making an appearance in the "halliest of halls" this summer.
But what else will make the con worth standing in the Hall H line?
How about Iron Man 3, Man of Steel and Pacific Rim for starters?
Unfortunately, Comic-Con looks to be a no-show for The Dark Knight Rises (except for maybe a Tumbler Tour), but that should come as no surprise.
What IS surprising is the lack of any Star Trek 2 presence. Hit the jump for more scheduling information and details on what you can (and can't) see at Comic-Con 2012.
Exact scheduling details have not been released yet.
So who's going this year???
Source : 'Breaking Dawn Part 2′ Confirmed to be at Comic Con 2012 Article