Hey. I haven't been oh but I today I felt like posting a blog. So about like two weeks ago. My mom got me a people collector's special on breaking dawn. Witch was really sweet of my mom to got me.
A NE
W DAWN: The
T'wilight
is ready to make it's biggest splash yet with a wedding, a baby and Bella and Edward entering the final chapter of their love story. Turn the page for amazing photos and inside scoop from Breaking Dawn.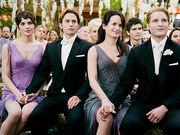 I know this blog is a little late,but you have to remember I don't have my 'new' laptop,yet.okay. And in the people:Collrctor's special it gives you behind the scences pictures.
It's shows a picture of Bella dichting her Corverse snd gives her wedding day heels a trial with her soon to be sister-in-law;Alice. (For more
Breaking Dawn
scoop,the movie's official companion book gose on sale on Dec,13.) I was so happy when I see the picture of Taylor Launter on a motorcycle....I was guessing that was rideing on it to get use to being on a motorcycle to play Jacob in
New Moon.
Alohought the union of Bella and Edward isn't exactaly your usual till-death-do-us-part affair (this is a vampire saga,after all),
Twilight
fans better be prepared to whip out a hanky while watching the do get hicted in
Breaking Dawn-Part 1.
"That whole part of the book is something that I read thousands of times," Kristen Stewart told ENTERTAINMENT WEEKLY. "It was oddly emotional the first time I got to set and saw everything amd everybody." And if a romantic wedding weren't enough,there are tons of other big moments packed into the film. A honeymoon,a volatile frist night of matrimonial passion, a pregnancy and to top it all off-the brith or Renesmee. "It;s so different thn everything else in the movie", Robert Pattinson has said of the scene. "For a fantasy series that has younghis
h audience, it gose quite far; it's hard-core." Given Bella and Edward's tumultioms history, the final chapter of their love story is primed to strike a deep chord.As stewart said at Comic-Con,echoing the feelings of Twi-hards everywhere," I've been building up to these moments for the four years.I was 17 when I started doing this movie-and this one really loaded with those catharic,impactful,huge life moments,and..they're really very rooted in a reality that I can completly see myself in".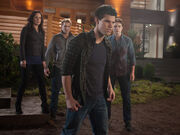 As you can see Edward's shrit has Bella's blood on it from getting Renesmme out from Bella's belly.
50: As the saga winds down,the real-life romance between Rob and Kristen Keeps going strong.
Ad blocker interference detected!
Wikia is a free-to-use site that makes money from advertising. We have a modified experience for viewers using ad blockers

Wikia is not accessible if you've made further modifications. Remove the custom ad blocker rule(s) and the page will load as expected.