I know the new Breaking Dawn Trailer come out on Tuesday (Sep,13 2011)! I just loved it.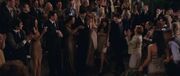 My Fave Moments in the new trailer:
At 0:44 is Bella and Jacob at the wedding *so sweet*
At 1:35 Alice "I can't see Bella's future anymore"
At 1:53 Angry Edward.
At 1:58 The Wolfs in font of the Cullens' house
screen-shot pictures
Ad blocker interference detected!
Wikia is a free-to-use site that makes money from advertising. We have a modified experience for viewers using ad blockers

Wikia is not accessible if you've made further modifications. Remove the custom ad blocker rule(s) and the page will load as expected.