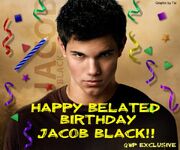 Yesterday was Jacob's Birthday and Stephenie Meyer via Kiowa Gordons's relesed his birthday date FINALLY
He's 20 now. So all you Team Jacob Fans you can celebrate now.
If you want the full story click on this link http://quileutewolfpack.com/newsblog/?p=2474
Ad blocker interference detected!
Wikia is a free-to-use site that makes money from advertising. We have a modified experience for viewers using ad blockers

Wikia is not accessible if you've made further modifications. Remove the custom ad blocker rule(s) and the page will load as expected.