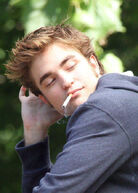 Have you guys seen the anti smoking commercials on MTV basically accusing Kristen and Rob of publicly endorsing smoking because they are often seen in public smoking cigarettes. It's all kinda harsh in a way, but MTV claims that they're hoping for a completely smoke free generation in a few decades. I was unaware that the actors even smoked - but the net is full of pictures of the actors smoking. There's even one with Kristen smoking a bong.
Ad blocker interference detected!
Wikia is a free-to-use site that makes money from advertising. We have a modified experience for viewers using ad blockers

Wikia is not accessible if you've made further modifications. Remove the custom ad blocker rule(s) and the page will load as expected.