I've been a member of this Wiki for a long time...and have enjoyed it. However, I came across another Wiki which I've also enjoyed. It's a wiki dedicated to the old series Lost In Space. I've had a time reliving my youth at this site. The show was already in reruns when I was born, but when I got older....and after school....I'd rush home so I could view a daily episode. The show was korny...and a bit campy...but it never bored me. It's about a pioneering space family. Althouh you'd think it serious...most times it was not. It was just campy and fun. If you're an older reader and remember this series...I'd suggest you join it. Thanks for letting me have my say!
TwilightReaderFan
Link:
http://lostinspace.wikia.com/wiki/Special:WikiActivity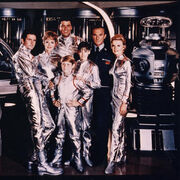 Ad blocker interference detected!
Wikia is a free-to-use site that makes money from advertising. We have a modified experience for viewers using ad blockers

Wikia is not accessible if you've made further modifications. Remove the custom ad blocker rule(s) and the page will load as expected.