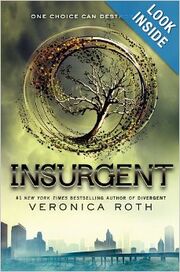 I just finished reading the 2nd book to the DIVERGENT series and it was REALLY good. I found the Divergent Wiki...and they have a Trailor playing their about the movie. It looks like it's gonna be awesome. If you haven't read the series yet...I suggest you give it a try. It's NOT Twilight...so no vampire, werewolves or anything like that. But it is truly an awesome series. Be sure to check out the trailor on the Divergent Wiki.
Here a shortcut to the wiki:
Ad blocker interference detected!
Wikia is a free-to-use site that makes money from advertising. We have a modified experience for viewers using ad blockers

Wikia is not accessible if you've made further modifications. Remove the custom ad blocker rule(s) and the page will load as expected.