What does everyone think of the new teaser preview to the new trailer coming out on September 13th? I liked it, even though it's only 16 seconds long. I especially thought the ending was interesting with the wolf pack and all.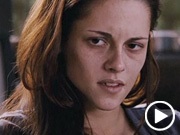 Below is the link where you can watch the teaser preview and a picture of Bella from the preview ( she definantly looks how SM described her in the book . . . horrible ! lol)
http://insidemovies.ew.com/2011/09/09/breaking-dawn-trailer-teaser/
( You can also see the teaser preview in various places, i just picked this link )
Ad blocker interference detected!
Wikia is a free-to-use site that makes money from advertising. We have a modified experience for viewers using ad blockers

Wikia is not accessible if you've made further modifications. Remove the custom ad blocker rule(s) and the page will load as expected.