Ad blocker interference detected!
Wikia is a free-to-use site that makes money from advertising. We have a modified experience for viewers using ad blockers

Wikia is not accessible if you've made further modifications. Remove the custom ad blocker rule(s) and the page will load as expected.
so today my laptop finally decided to let me talk on live chat, and i tell ya something we had the best conversations eva. Breetannerfan and teamjacobsodealwithit how you guys make me laugh. My laptop at first wouldnt let me join in, but today it did and we had the funniest conversations ever. Trying to top eachother on what sounds worse than bellas scream, but we couldnt find anything PFFT xxx
sending eachother links that blow our ears off, ha lol. so i just wanted to get the message out that if your online join the chat, they are fun and enjoyable. Most conversations are about twilight and others not either way but either way join it its great. and we love taking the piss of bella >:(. and looking at funny twilight pictures. >>>>>>>>>>>>>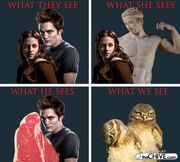 so yh if you do ever go on twilight wiki, join in on the chat and have some more funny covos with everyone else.