Well, I haven't made a blog for forever so here it is! Here is a quiz made by me to copy and paste in your profile (if you want, of course :) )
Favourite ice cream flavour:
Favourite colour:
Fvaourite subject at school:
Favourite song right now:
Quickly, pick a Twilight name!:
Favourite Twilight vehicle:
Do you want to be an admin on this wiki?
Favourite quote from Twilight movie:
Favourite quote from New Moon movie:
Favourite quote from Eclipse movie:
Favourite quote from Breaking Dawn part 1 movie:
Favourite Jacob Black outfit:
Favourite Edward Cullen outfit:
Favourite Bella Swan outfit:
Team Jella or Team Bedward?:
Team Alice or Team Rosalie (this one is difficult):
Do you like Jacob/Jella hugs?:
In which movie did your favourite Jacob/Jella hug happened?:
That's it. Thanks for reading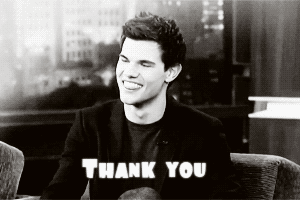 Bye-bye *Jacob hugs* Nike's Girl 17:31, February 12, 2012 (UTC)
Ad blocker interference detected!
Wikia is a free-to-use site that makes money from advertising. We have a modified experience for viewers using ad blockers

Wikia is not accessible if you've made further modifications. Remove the custom ad blocker rule(s) and the page will load as expected.