Well, I don't anymore. At least not "Love Death Birth", really. The more I listen to it, the more I think "Love Death Birth" isn't half bad.
There are still parts I don't like, but it's a trillion times better than the Twilight score, in my opinion. I love that Carter Burwell is using string instruments (besides the piano and the guitar) this time around. I appreciate it a lot.
As a violinist (that recently made it into a big region orchestra with a limited amount of seats [Holler!]), I find Carter's usage of strings awesome. Every time I listen to "Love Death Birth", I imagine where the parts fit into
Breaking Dawn - Part 1
, which is probably why I get so giddy over it.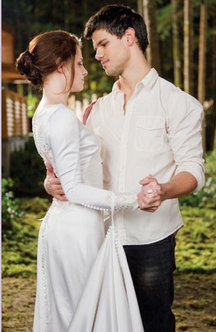 I adore the "Death" sequences (mainly because they accentuate Bella's death and transformation, and it's good music, anyway), and I actually don't have a problem with that ever-so-queasy "Bella's Lullaby" at the end of "Love Death Birth" now. It fits. I can't wait to hear "Love Death Birth" again during the movie when I see it with some friends on Friday. It will be most likely the last time I hang out with them this year, and what better way to celebrate getting out of school for the holidays than to go out and see a movie? I can't wait. I just better be well by then. I'm staying home sick today. :/
Anyway, I honestly can't wait for the Breaking Dawn - Part 1 score...but I still consider Carter as my least favorite composer of the Twilight movie scores. He just isn't as good as Alexandre Desplat and Howard Shore. End of story.
From your Taycobsessive acquaintance,
TeamTaycob 17:34, December 13, 2011 (UTC)
Ad blocker interference detected!
Wikia is a free-to-use site that makes money from advertising. We have a modified experience for viewers using ad blockers

Wikia is not accessible if you've made further modifications. Remove the custom ad blocker rule(s) and the page will load as expected.