So I was just on team-twilight.com (because they're, like, five steps ahead of bellaandedward.com when it comes to Twilight Saga news and I like really quick updates), and surprise! New Breaking Dawn Part 1 promotional cards of Bella Swan, Edward Cullen, and Jacob Black! I thought I would share them with you guys because this community is awesome. So here ya go! Tell me what you think in the comments!
XOXO,
TeamTaycob
P.S. I like the quotes, but the only one I can't determine is Bella's: "Yeah. I'm ready." This could mean a variety of different things. Ready to get married? To become a vampire (even though she had to sort of abruptly)? To drink blood? What could this quote mean? Also, they're really milking the red theme here. In the trailer, I saw so much red. Aro's tie, Gianna's dress, etc.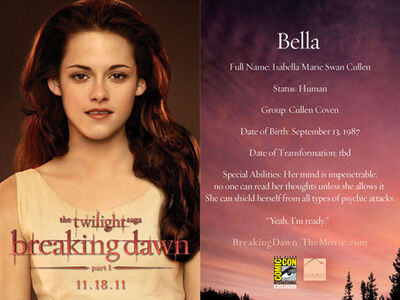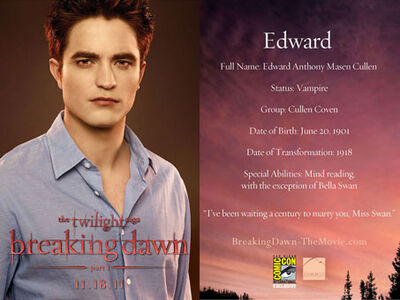 Ad blocker interference detected!
Wikia is a free-to-use site that makes money from advertising. We have a modified experience for viewers using ad blockers

Wikia is not accessible if you've made further modifications. Remove the custom ad blocker rule(s) and the page will load as expected.