Comments

17
More New "Breaking Dawn" Promotional Cards
This time, they are for Alice, Jasper, and Carlisle. I really don't care for the cards this time around, maybe because I'm still obsessing over the fact that Summit hasn't officially released any footage for the fans that weren't so fortunate to attend the Comic-Con, but here ya go!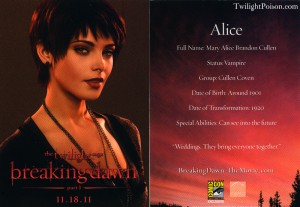 Sorry, but this is as big as I can make the photos. =(
Tell me what you think!
XOXO,
TeamTaycob
(P.S. Don't they look rather
tan
for vampires? I am personally
loving
the new glow...But then there's Carlisle's hair...)