Ad blocker interference detected!
Wikia is a free-to-use site that makes money from advertising. We have a modified experience for viewers using ad blockers

Wikia is not accessible if you've made further modifications. Remove the custom ad blocker rule(s) and the page will load as expected.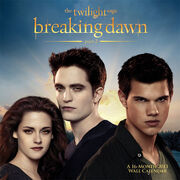 I remember how last summer I was losing my shit at the fact that there was just a third of a year left until
BD-1
. I'm much more calm about it this year, haha. I know a lot of Twihards are sad, but I really don't feel the need to be sad about the Saga ending right now. Sure, I'll be bawling my eyes out at 3am on the 17th of November after seeing the movie at midnight, but right now, I'm fine. Why should I be sad? Comic-Con just happened, new promos came out, a trillion GORGEOUS portraits of Taylor at Comic-Con came out (view them
here
), and the new cast members are absolutely
amazing
. (Rami Malek and Angela Sarafyan need to get MARRIED, they are so fricking cute; Guri Weinberg and Noel Fisher are legends; Maggie Grace and Mia Maestro are wifeys.) I'm more excited than anything right now. I'll save my tears for later.

I'd say I'm most excited for the wolves and the new vampires. (On the way to the store earlier, I saw a hobo that looked like Garrett and got a little excited.) You can't go wrong with those. I just can't wait to see shit being blown up.
What are YOU looking forward to the most in Breaking Dawn - Part 2?
Tell me in the comments, TeamTaycob 04:44, July 17, 2012 (UTC)