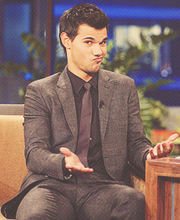 I've been pimping out his birthday on Twitter since yesterday, lol. Happy February 11th, 2013, aka Taylor Lautner's 21st birthday. Aaaahhh, wasn't he just Sharkboy, like, five minutes ago!? It's crazy. I would make a long, drawn-out speech here, but I already did that on Tumblr so... happy birthday to the light of my life and the fire of my loins. I hope he has a blast.
Take care,
Ad blocker interference detected!
Wikia is a free-to-use site that makes money from advertising. We have a modified experience for viewers using ad blockers

Wikia is not accessible if you've made further modifications. Remove the custom ad blocker rule(s) and the page will load as expected.