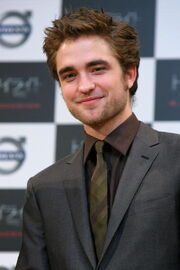 Lol, how awkwardly mind-blowing is it that I, as not even a huge Robert fan, am currently the only person on this Wiki that remembered that today is his his 26th birthday? To be honest, I only remembered his age because he and Lady Gaga were born the same year, just a couple of months apart, and also because #OurSpunkRansomIs26 is trending on Twitter. Well, anyway, our old man, the dude that brought an even older fictional man to life, is probably going to spend his day relaxing, smoking a cigarette (or four), etc. Not like that matters. Happy Birthday, Robert!
xo, TeamTaycob 13:36, May 13, 2012 (UTC)
Ad blocker interference detected!
Wikia is a free-to-use site that makes money from advertising. We have a modified experience for viewers using ad blockers

Wikia is not accessible if you've made further modifications. Remove the custom ad blocker rule(s) and the page will load as expected.