In the photo I posted on this blog, I saw that there are nine wolves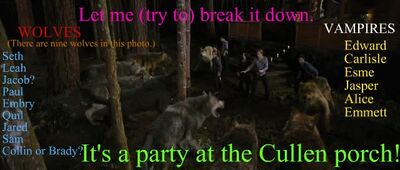 and six vampires (it's a little hard to see Alice in this picture, but she's there, next to Jasper and a wolf that I think is Leah).
Back to the wolves, I think Collin and Brady will be in Breaking Dawn Part 1. Remember them? They were the youngest members of the pack. I think they will be in the movie because there are nine wolves in this photo, and though there are ten members of the pack, I don't think only Collin or only Brady would have been cast; I think that both characters would have been cast. Though they could be combined for the movie, like Jessica & Lauren and Eric & Ben. You never know. So what do you think about Collin and Brady in Breaking Dawn? My opinion? Though neither character says much throughout the entire novel, I say they should be in the movie. The more wolves, the better.
With Twilightish love,
TeamTaycob
(Note: When I listed the wolves in the picture, I did not list them in any sort of order which they are standing in. Sorry, my knowledge of which one is which in wolf form is a little fuzzy, though I do know which wolves some of the characters are in wolf form. :P)
Ad blocker interference detected!
Wikia is a free-to-use site that makes money from advertising. We have a modified experience for viewers using ad blockers

Wikia is not accessible if you've made further modifications. Remove the custom ad blocker rule(s) and the page will load as expected.