I've started reading the book series The Immortals, and I have to admit; I love it. I'm not even halfway through the book, and I'm completely in love with it. I find it very captivating and mysterious, and that kind of stuff is SO me. I love things like that. So, I definitely wanna recommend, at least the first book, Ever More, to everyone on this page. Considering I haven't read the other books, I don't wanna say anything about how amazing the series is, because I haven't finished the first book. But, I definitely want to read the other books, too, because the first book is really amazing. In my opinion, at least.
The only secret people keep is immortality.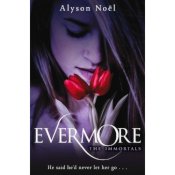 Have you ever read the series? :D
Ad blocker interference detected!
Wikia is a free-to-use site that makes money from advertising. We have a modified experience for viewers using ad blockers

Wikia is not accessible if you've made further modifications. Remove the custom ad blocker rule(s) and the page will load as expected.