At the 64th Cannes Film Festival last night Michael Sheen (Aro) shows off his girlfriend Rachel McAdams for the first time.
Of his new girlfriend, Michael told Entertainment Tonight Canada: "She's a genuinely lovely lady as well as being stunningly beautiful and very talented." While some people are stressing over the age difference, (Michael is 42 and Rachel is 32) the pair don't let it let that ruin their good time.
So what do you think of couple? And does the age difference bother you?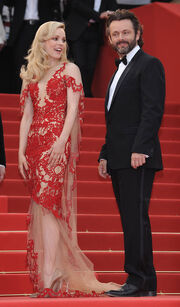 Ad blocker interference detected!
Wikia is a free-to-use site that makes money from advertising. We have a modified experience for viewers using ad blockers

Wikia is not accessible if you've made further modifications. Remove the custom ad blocker rule(s) and the page will load as expected.