Looks like Kristen Stewart, Robert Pattinson and crew are heading to higher ground. The repercussions of the 8.9 magnitude earthquake and resulting tsunami that devastated Japan early this morning are now impacting the West Coast of North America, and apparently the cast and crew of the Twilight series currently filming Breaking Dawn in Vancouver.
"They're evacuating us 4 a tsunami warning. If this … is my last my tweet. I love you. The end. Hugz," Tinsel Korey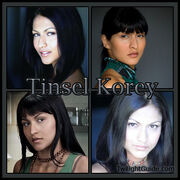 tweeted Friday morning.
The seemingly terrified star, 30, followed up a few minutes later,
"If this is the moment. Then I've lived a good life. And I'm thankful 4 everything I've been given."
A tsunami warning was issued for the area, with experts fearing waves could reach between three and six feet.
La Push is also being evacuated.
Ad blocker interference detected!
Wikia is a free-to-use site that makes money from advertising. We have a modified experience for viewers using ad blockers

Wikia is not accessible if you've made further modifications. Remove the custom ad blocker rule(s) and the page will load as expected.