This morning i was watching eye witness news and they said Robert Pattinson is Royalty! he has 2 or i think it was 1 cousin(s) that are royalty. ight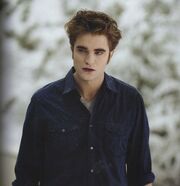 And did any body see the Jimmy Kimmel show last night. I thought it was great. They show sneek peeks of the movie. My favorite sneek peek was the fight scene. They did amazing job! Can't wait to see ECLIPSE!!!!!!

Ad blocker interference detected!
Wikia is a free-to-use site that makes money from advertising. We have a modified experience for viewers using ad blockers

Wikia is not accessible if you've made further modifications. Remove the custom ad blocker rule(s) and the page will load as expected.